Lake Minnetonka
Search Lake Minnetonka, MN Real Estate for Sale
Lake Minnetonka's Lifestyle is Like No Other
The Minneapolis area is famous for its chain of lakes — hence Minneapolis's nickname "City of Lakes." But when home buyers are searching for their desired lakefront retreat, they choose a home on Lake Minnetonka. There are many reasons this lake is so popular among local residents and home buyers, but it's not just for the luxurious lakefront homes that line more than 100 miles of shoreline. It comes with a rich history of recreation that dates back to at least the 19th century.
Newest Listings Around Lake Minnetonka
Enjoy the Waterfront Year-Round
Did you know Lake Minnetonka is one of the largest lakes in Minnesota? Naturally, residents and tourists alike enjoy this spacious lake being so close to their homes, and there is always something to do.  
You'll find nothing short of fun at the lake when you live in Minnetonka. Just a sample of the amenities offered for residents and visitors include: 
Lake Minnetonka Regional Park
Minnetonka Yacht Club
picnic areas
fishing pier
biking and hiking trails
boat launch
camping areas
and more! 
Cruise lines still operate, too, giving regular tours around the lake. Life is good when you live on Lake Minnetonka!
Popular Communities Around Lake Minnetonka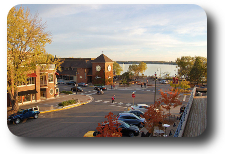 There are 12 communities in the Lake Minnetonka area, each with their own distinct appeal, beautiful homes, and local culture. But despite their differences, the lake is the centerpiece of them all. 
Wayzata, for instance, is a small community of just 4,200 residents, yet it's the headquarters of businesses like TCF Bank and Cargill Inc. Shorewood, another popular community, has been a major tourist destination since the 1800s.  
In all of these areas around Lake Minnetonka, residents have formed a tight-knit community of support with one another, preserving the area's strong commitment to education, its appealing lake lifestyle, and the beautiful homes that it offers. 
New Construction is Booming
Because Lake Minnetonka is such a popular place to live, brand new homes and condos are being built to satisfy buyer demand. Popular new communities in the Lake Minnetonka area include condo communities in Downtown Wayzata and luxury homes in Orono and Minnetonka.
This Lake Comes with a Rich History
This lake was first inhabited by people referred to as Mound builders, which is an ancient civilization that encompassed much of Midwestern America between 3500 BCE and 1500 CE.
The first known Euro-Americans to visit the area were two 17-year-old boys named Joe Brown and Will Snelling, who canoed up Minnehaha Creek from Fort Saint Anthony around 1822 after hearing from local natives about a large body of water. But it wasn't until several decades later that Lake Minnetonka and its surrounding communities were extensively explored by Euro-Americans.
Minnetonka was officially named by Minnesota's territorial governor, Alexander Ramsey, in 1852. Natives had used the phrase Minn-ni-tanka around him, which means "Big Water" in the Dakota language. Hence the lake was named accordingly.
Lake Minnetonka Real Estate Information
Lake Minnetonka offers just about every home style, from historic log homes to small condos and townhomes to sprawling lakefront mansions. And the homes vary in price just as widely as the home styles that are available for buyers.
For those potential buyers looking for a deal, there are foreclosures and short sale homes that can be purchased at below-market average, even on Lake Minnetonka. There are also unique, immaculately landscaped and sprawling lakefront estates that are priced up to $20 million.
Discover Your Dream Home on Lake Minnetonka
Many homes for sale in this area are waterfront homes or lake access homes. While the official estimate of shoreline on the lake is 110 miles, others estimate that there may be closer to 350 miles. Single-family detached homes are the most common make of residential real estate, most fashioned in charming Northeastern style.
Are you looking for your dream home? You may find it on the lake. Search through Lake Minnetonka waterfront homes and browse the current listings to see which one you would enjoy calling your own. 
We Are Here to Help
As your local Lake Minnetonka real estate experts, we have provided this website as a helpful guide to the real estate market and local lifestyle, and we can answer any questions you may have about buying a home in Minnetonka.
Just call us at 612.925.8402 if you want more information or want to schedule a showing.